---
For over ten years I have been helping Alaskans improve the indoor air quality in their homes, buildings, shops, RV's and many other types of spaces. I am here to help you do the same. I specialize in helping you improve your indoor air quality. Let me help you. I am proud to carry several different products to meet my customers' various needs and I am the exclusive Alaskan distributor for the EZ Breathe line of ventilation products and StablWall foundation repair products. I also carry Chimney Balloons to help you seal up drafts from your fireplaces. I also offer commercial and residential MOLD TESTING and INDOOR AIR QUALITY TESTING at reasonable rates. Feel free to fully explore my website and contact me at anytime with any questions. Contact me anytime for consultations and estimates.
---


Your Indoor Air Environment: It's Not As Safe As You Might Think...


---
---

If you don't suffer from asthma or allergies, it's likely that someone close to you does. Twenty million Americans — one in every 15 — suffer from asthma (source: Asthma and Allergy Foundation of America). And resulting allergic diseases affect as many as 40 to 50 million Americans.

While these statistics are staggering, they are not entirely surprising: Consider that, according to studies by the EPA, "Air quality inside homes is a minimum five times worse than the air outside — and North Americans spend an average of 90% of their time indoors." Poor air quality is a direct link to respiratory and other health-related issues.


---
Scroll down to see some of the products that I recommend and carry


---

Temporarily Seal up Your Fireplaces to prevent downdrafts and heat loss.
We now carry a full size range of Chimney Balloons. Contact us today to get yours: 907-727-8633. Click on the Chimney Balloon logo below to learn more about this product.

---
We are now proud to announce that we are Alaska's exclusive distributor of the StablWall System. Click on the StablWall logo to learn more about this amazing product that can be used to strengthen and fix your foundation walls at a fraction of the cost of other methods. Call us today to order yours. 907-727-8633



---
The EZ Breathe home ventilation system does the following:

EZ Breathe works by air exchange. It exhausts stale, polluted air and all the contaminants and moisture that come with it and replaces that bad air with fresh clean air from the outside. It provides 6-10 complete air exchanges in the home each day so you are always breathing fresh, clean air.

Every EZ Breathe comes with a 100% satisfaction guarantee. If you are not completely satisfied, for whatever reason, you will receive a full refund.


---

---
Hi, do you have an attached garage? Did you know that all the air in your garage ends up in your house every 45 minutes. This is not good!!! I can help. I carry a brand new product that is designed to ventilate garages so there is no longer an air exchange with the air in your house. Contact me today to learn more about this. Read below: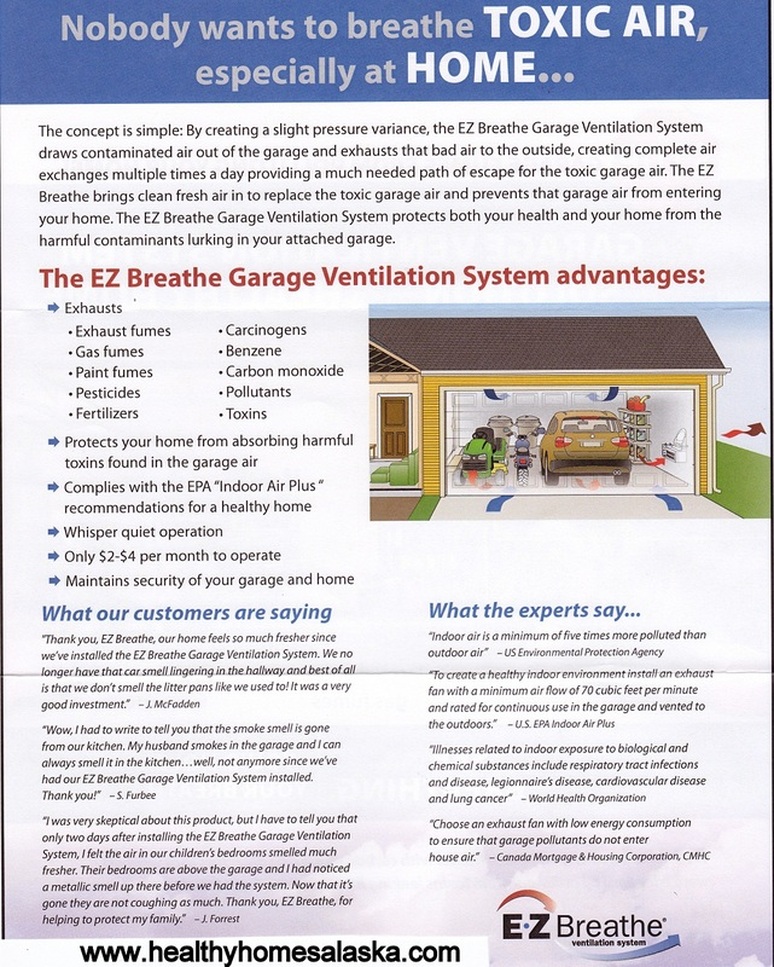 ---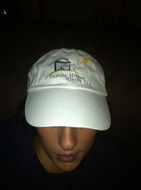 Click on the "Like" button below to like us on facebook and be entered to win a Healthy Homes Alaska baseball hat like the one on the left!!!

---
---